Research
Fashioned from Nature until January 2019 at the V&A
This exhibition will present fashionable dress alongside natural history specimens, innovative new fabrics and dyeing processes, inviting visitors to think about the materials of fashion and the sources of their clothes. Amongst the exhibits is a woollen pattern sample book - From Frome!
Purchased. Registered File number 1989/1555. http://collections.vam.ac.uk/item/O294331/sample-book-unknown/
The pattern book is associated with Joseph Dommett, clothier of Selwood, Frome, Somerset, whose descendants sent it for auction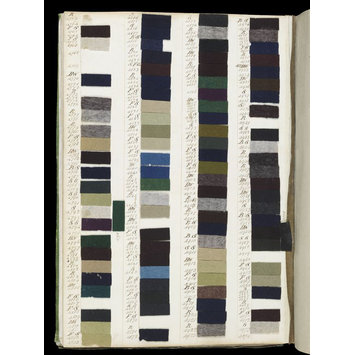 Dommetts Lane in Frome recalls the clothier family who originally came from Devon. For those looking for more information there is a file in Frome Musuem.
Whilst we were working on Woad To This, Jon and I pulled together a number of interesting sets of research. These will hopefully be extended over time under.
PCC Wills - an analysis of Clothier's wills by location and time
Frome Cloth Workers - a list of cloth trade people